OUR TEAM
The Stamford JCC takes great pride in hiring passionate, caring and responsible camp staff. We believe that the quality of our staff directly impacts the camp experience. Our leadership team has over 100 years of camp experience.
All team members get extensive training before the camp season. Unit Heads are teachers and/or graduate students who supervise both Senior Counselors (college students), who are in charge of the groups, and Junior Counselors (high school students), who assist. Our specialists are professional coaches and teachers who develop and implement exceptional curricula.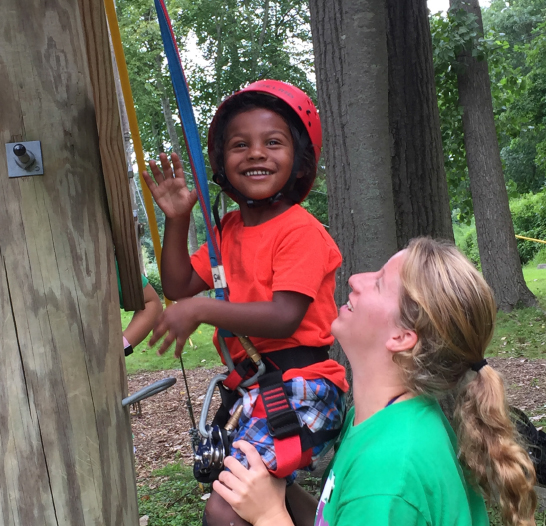 About Our Program
Day Camps@The J offers modern, innovative programs that engage campers and encourage them to learn new skills and discover their talents. Our curriculum is designed to help uncover their interests and passions by giving them opportunities for safe and positive risk-taking.
The Camp Day
Campers enjoy our hybrid curriculum of traditional day camp experiences and elective-based programming. Traditional day camp activities include daily group-based programs in the morning. In the afternoon, campers participate in week-long electives, giving children the ability to choose specialty programs and benefit from in-depth experiences. Elective activities are tailored to each age group, and as campers grow from year to year, the program grows with them, offering new and exciting activities.
Exceptional Swim Program

Day Camps@The J utilizes the JCC's renowned team of professional swim instructors and a swim program with a results-driven approach. Campers enjoy two swim sessions each day – instructional swim in the morning and free swim in the afternoon. Parents are kept in-the-know with weekly swim progress updates. All of our lifeguards are American Red Cross Certified and supervised by the JCC Aquatics Director.
Camp and 21st-Century Skill Building
With Day Camps@The J's unique environment, our campers learn life skills while playing sports, creating art projects and testing the limits on our adventure course. Our camp experience is the perfect place for campers young and old to learn social skills and emotional intelligence, helping campers develop into adults who succeed in life.
GROWTH
Campers will grow to become independent and resilient, and will learn how to advocate for themselves. Campers will learn how to compromise, be proactive, and champion ideas. They learn adaptability and how to balance confidence with humility.
CONNECTION
A study conducted by The American Camp Association with 5,000 campers over four years confirms that life skills learned at camp help children succeed in college and as adults. Of the 5,000 campers who participated in the study, 96% reported that camp helped them make new friends. Camp provides a safe and supportive environment in which children get encouragement from our caring staff and from their friends and fellow campers.
 
aBOUT THE STAMFORD JCC
For over 100 years the Stamford Jewish Community Center has served as a cultural, educational and recreational center offering exceptional programs, classes and special events designed to enrich the mind, body, and spirit. Driven by the Jewish values of welcoming guests, kindness, respect, and communal responsibility, we warmly welcome people of all ages, faiths, ethnicity, gender, and backgrounds.
The JCC offers a safe, welcoming and inclusive environment for our family of acclaimed children's programs including: summer day camp, full-day, year-round childcare, preschool and pre-k, after-school care, enrichment classes, recreational activities; and more.